Sanctuary Treehouse Resort
ABOUT OUR RESORT
Experience a one-of-a-kind resort in the Smoky Mountains
Sanctuary Treehouse Resort is the first of its kind in the Smoky Mountains, offering guests a unique lodging experience. Situated on 36 holes of two championship golf courses in the Smoky Mountains, our resort has gorgeous views of both the courses and the mountains. But, our Smoky Mountain resort provides so much more than just views. Our mission is to create an interactive experience for guests within the treehouses by providing amenities that allow you to play and have fun, just like you would in your treehouses growing up. Our treehouse rentals in the Smoky Mountains feature rope swings, slides, escape hatches, hidden beds, drink chutes and more. Both families and couples will enjoy our unique treehouse rentals.
Come stay, play, and relax at Sanctuary Treehouse Resort in the Smoky Mountains.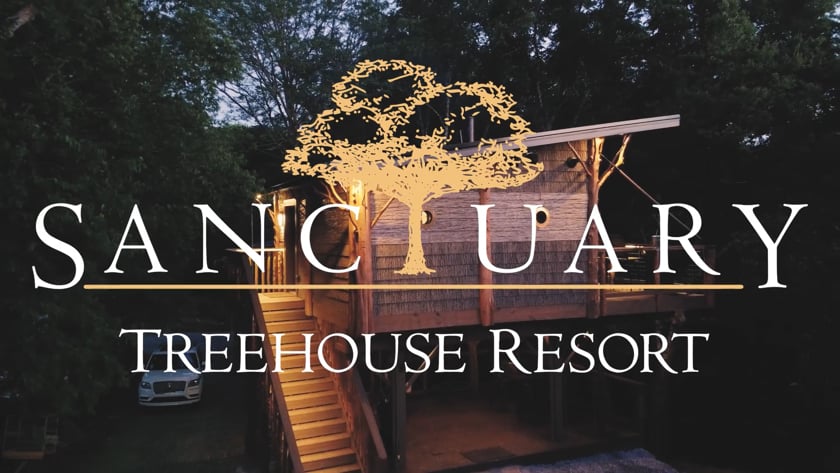 Resort Map
Take a look at the map of Sanctuary Treehouse Resort below to see what to expect at our resort.
Sanctuary Treehouse Resort provides Smoky Mountain visitors with a lodging experience that is unlike anything they have ever had before.
Sanctuary Treehouse Resort in the Smoky Mountains plans to have 130 treehouses spread across 40 scenic acres. Visitors can choose from 3 different types of treehouses: Tree Fort, Tree Fort Double, and the Luxe. Each rental has something special to offer guests. Tree Fort is perfect for families and can sleep up to 6 guests comfortably.  It features unique amenities like a slide, drink chutes from the kitchen to the lower porch, swings, escape hatch with secret ladders, crank out beds, and so much more.
The Tree Fort Double caters to groups, featuring all the same great amenities as the Tree Fort. It has 2 treehouses connected by a drawbridge that can be raised or lowered for groups to use. The Luxe is a top choice for couples for honeymoons, romantic getaways, and anniversary celebrations, as well as for small families or groups of 4. It offers more upscale amenities, including an outdoor tub, bidet automatic heated toilet system, luxury decor, and more. Each rental provides a one-of-a-kind experience for guests.
Are you ready to book?
Reserve a one-of-a-kind stay at the first-ever treehouse resort in the Smoky Mountains.